October 2014
Translivings - Big Night Out - 3rd October 2014 - Admission £8.00 or £6.00 to TLI Members. 8pm to 1am at the Old Brentwoods Club, Ashwells Road, Brentwood, Essex, CM15 9SE - www.transliving.co.uk/parties.htm or email: shane@transliving.org.uk or telephone 07709 162682 / 01268 583761
Hide & Sleek Miss TV Scotland Weekend Friday 24th - Sunday 26th October 2014 in Edinburgh. For more details go to www.misstvscotland.co.uk
Transliving Autumn Eastbourne Weekend - (dates to be announced)at the Haddon Hall Hotel in Eastbourne. For more details contact www.transliving.co.uk or call 01268 583761
November 2014
Translivings - Big Night Out - 7th November 2014 - Admission £8.00 or £6.00 to TLI Members. 8pm to 1am at the Old Brentwoods Club, Ashwells Road, Brentwood, Essex, CM15 9SE - www.transliving.co.uk/parties.htm or email: shane@transliving.org.uk or telephone 07709 162682 / 01268 583761
Roses Harmony Weekend 6th - 10th November 2014 at the Esplande Hotel in Scarborough. For two nights sharing £128.00. For more details go to www.repartee.tv/HWE2013.htm or write including a stamped addressed envelope to Martine Rose, 308 Stoneyford Road, Sutton in Ashfield, Notts., NG17 2DX
Rotherham 23rd year Celebration Weekend - 14th - 16th November 2014 - Janett Scott's great weekend in South Yorkshire. A weekend which has proved such a success for the last 22 years. The price will be £165.00 for the two nights with days either side for just £68.00 per person, plus if you want a single room there is a £15.00 single room supplement for single. For bookings and more details contact Janett Scott by writing to her (please include a stamped addressed envelope) to 72, Putteridge Road, Stopsley, Luton, LU2 8HG. or email JScott5426@aol.com
December 2014
Translivings - Big Night Out - 5th December 2014 - Admission £8.00 or £6.00 to TLI Members. 8pm to 1am at the Old Brentwoods Club, Ashwells Road, Brentwood, Essex, CM15 9SE - www.transliving.co.uk/parties.htm or email: shane@transliving.org.uk or telephone 07709 162682 / 01268 583761
Rock & Roll Weekend - 5th - 7th December 2014 at the New Westcliff Hotel, Chine Crescent, Bournmouth, Dorset. from £99 per person for d.b.b. For this event please book directly with the hotel, Tel. 01202 551062 or 01202 551926. Website at www.newwestcliffhotel.co.uk and email address is reservations@newwestcliffhotel.co.uk . If you would like any further information contact Danielle at D. Daniels, P.O. Box 11, Swanmore, Hants., SO32 2ZU or email ddan282739@aol.com
January 2015
February 2015
Northern Concord's "Le Big En Weekend 2015" - Friday 6th to Monday 9th February 2015 - Don't miss this one! The 23rd weekend event; our venue at the Ringwood Hall Hotel just gets better and better. Booking forms will be available soon on this website.
March 2015
April 2015
May 2015
June 2015
July 2015
Sparkle Weekend - July 2015 on the streets of the Village area of Manchester City Centre. For more details take a look at www.sparkle.org.uk
Kay's Harrogate Weekend - July 2015 at the Cairn Hotel, Harrogate. Prices start from £???. For more information contact Kay West at 35 Hawthorn Avenue, Stopsley, Luton, Beds., or on email kay.west.online@gmail.com.
August 2015
September 2015
Northern Concord's "Mid Week Summer Party" - Sunday 13th or Monday 14th to Wednesday 16th September 2015 - Our venue will be the Ringwood Hall Hotel. Wonderful gardens, massive marquee, barbeques... Relax in your summer frocks as you stroll around the grounds of the hotel. Booking forms - will be sent out to members in Cross Talk and then available on line on this web site.
October 2015
November 2015
Rotherham 24th year Celebration Weekend - November 2014 - Janett Scott's great weekend in South Yorkshire. A weekend which has proved such a success for the last 23 years.
For bookings and more details contact Janett Scott by writing to her (please include a stamped addressed envelope) to 72, Putteridge Road, Stopsley, Luton, LU2 8HG. or email JScott5426@aol.com
DEcember 2015
---
Happenings Every Week
The WayOut Club Saturday 9pm to 3am - at Abbey 33 Minories), London EC3N 1DD Entry to the club is £10.00. For more information call their 24hour information line on 0208 363 0948. www.the wayoutclub.com
Pink Punters Nightclub - Every Friday, Saturday and Sunday 9pm till 5am. Big Night Out every 2nd Friday. 2 Watling Street, Fenny Stratford, Milton Keynes, MK2 2BS. Telephone 01908 377444 - Website www.pinkpunters.com
Please let us know if we can help promote your local event by E-mailing us or writing to the address below
To Contact Northern Concord write to:
The Northern Concord,
P.O. Box 258,
Manchester,
M60 1LN,
England
or E-mail JennyB@northernconcord.org.uk
The Northern Concord
is a completely voluntary organisation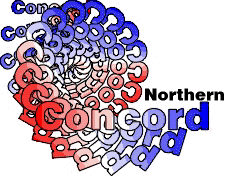 1986 - 2014
Working for the transgender community for the past 28 years